PLUMBING SERVICES: WATER PRESSURE REGULATORS
Water Pressure Regulator Installation San Diego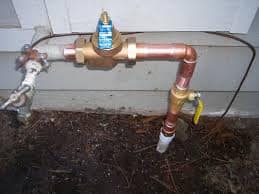 Have you got any familiarity with your gas tank's pressure regulator? Are you sure it is working optimally? Most likely the answer would be no, because majority of the people aren't sure what a pressure regulator is. This is why, Drains Plumbing offers the best water pressure regulator installation and repair services in San Diego. In case your gas or water pressure regulator isn't working properly, be ready to experience a lot of wear and tear on your water and gas-powered appliances.
In simple terms, water pressure regulator is a valve, and it is responsible to turn off the flow of water whenever it reaches a certain level of pressure. It is crucial that your device is maintained properly. If it fails or stops working, it could result in some major water line problems. If you every notice water coming out of the water heater valve, this is a clear indication that your water pressure regulator is not working properly, requires repair work or might need complete replacement. At Drains Plumbing, we can handle almost any type of installation and repair services that you need.
Drains Plumbing has professional and extremely courteous technicians, who are properly trained in all of the latest plumbing installation, adjusting and repairing techniques for pressure regulators, both for gas and water systems. All you need to do is give us a call and one of our technicians will come over at your place to evaluate the condition of your pressure regulators and will provide the best advice on repairs and replacements that we think are necessary.
Pressure regulators help prevent a variety of issues. These include:
Wear and tear on appliances
Water hammer in the pipes
Pressure on the pipes
Running toilets
The Importance of Water Pressure Regulators
Water pressure regulators are considered one of the vital security devices. If your house doesn't have a water pressure regulator, then be ready to face damage to your fixtures due to water pressure getting too high. It also causes the water pressure to get too low at time, and this could easily render your taps/faucets and make your showering experience an unpleasant one.
Though you may be tempted to try out some DIY solution and then replace or even fix your regulator all by yourself. However, this can result in some serious damage to your entire plumbing system. Almost all water pressure regulator services can be easily handled by our experienced professionals.
Schedule an Appointment for Service Today
If you suspect that your water pressure is unusually higher than normal, might possible that it could be a malfunctioning of your pressure regulator. You can schedule an appointment with one of our plumbers. They will test your water pressure using state of the art equipment and also thoroughly inspect your system to figure out what exactly is happening. We take pride in calling ourselves as one of the best water pressure regulator installation and repair company in San Diego, and we take every step it takes to help you avoid any leaks and damage to your pipes.
At Drains Plumbing, we have emergency plumbing team that is available 24/7 to meet and exceed all your plumbing needs. Give us a call today to get a free of cost plumbing service estimate from the top-rated San Diego plumbers.