PLUMBING SERVICES: SEWER REPAIR
Sewer Repair San Diego
We always prioritize the concerns of our clients and ensure they no longer have any plumbing issues at home or business.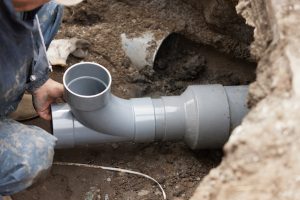 Being in the business form the past several years, we take pride in being the best sewer line repair company in San Diego. Drains Plumbing has the expertise and professional labor that can take care of all your plumbing related issues that you might be having. Whether it be your home, business or even property management, you can always count on us to handle any kind of sewer related repair and replacement jobs.
There are some repair jobs that even the most dedicated DIY shouldn't attempt. Sewer main line repair or inspection is one of them.
Usually sewer problems happened when people are neglectful of the fact what's being flushed down their toilets, poured into the sinks, shower drains and the drains in the laundry room. All these pipes eventually merge into one large sewer main line.
The sewer main line is quite a big drainage pipe, which is buried deep into the ground, as much as ten feet down, and it connects your home or business drains to the city's sewer lines or to the home's or business's septic tank. Whenever the main pipe clogs, it will create a big mess as the raw storage and waste water will no longer exit your house's pipes. This will result in interior pipes backing up, which would create a big mess inside your home or business place.  
Signs Your Sewer Is In Need of Repair
If you get your drains and sewer regularly cleaned by professionals, you will resolve majority of the issues. However, there can still be other problems that needs to be addressed, for instance repairs or replacements. Below we have shared some of the most common signs, that if you notice, means that your sewer needs repair.
Your sewer might need repairs for the following reasons:
Leaking seals on the pipe joints
Older pipe system that has begun to corrode
One of more sections of the pipe has sunken in, which makes it more vulnerable to clogging
Yu have trees and plant roots obstructing the flow in the sewer line
Pipes are cracks, collapsed or show signs of collapse
There is fat, grease and other substances clogged in the sewer line
If you ever find yourself with the raw sewage backup in your yard, basement or any other place in your home, you should immediately call us at Drains Plumbing for help.
Our professional plumbers are extensively trained and are fully-certified in repairing the main sewer line. They will not only diagnose your problem with pinpoint precision using the latest state of the art technologies, but will also provide you with all the information that you need to know to decide which repair option will best suit your home or business.
We make use of sewer cameras, and can find the exact point of your backup to determine if it is a simple clog or something worse like a collapsed pipe. In no time, we will have your plumbing draining quickly and clearly back again.
Regardless of the cause of the backup, a backup sewer main line isn't something that you should ignore. You should take care of all such issues as soon as they appear. This will help prevent any kind of serious damage before it gets the chance to ruin your home. Moreover, the sooner you detect the cause of the problem, the less expensive would be the repairs. As a matter of fact, the maintenance work we provide at Drains Plumbing helps in preventing embarrassing and potential damages to your main line sewer backups.
We rely on the latest technologies in the plumbing industry. Drains Plumbing can quickly find the root cause of the plumbing problem, especially the ones with your sewer lines. For instance, we use our state-of-the-art sewer line camera inspection to check your underground sewer lines. This is something that cannot be done without the use of proper tools. If you have any questions about our sewer repair services or other plumbing services, feel to contact our expert San Diego plumbers to get all the plumbing answers you are looking for.
Why Choose Plumbing and Drains Solutions?
At Drains Plumbing, we take pride in the quality of our work that we do for our clients. This is why we are the best sewer line repair company in the San Diego county. We promise to deliver you with the highest quality of plumbing services and we always work with professionalism, integrity and honesty. This is something that we have been focusing on since the beginning of our business and till today. It is crucial that we always stay on top of our competitors by using the latest technological advancements in the plumbing industry. Not only this, but we keep ourselves educated with the latest plumbing methods and equipment to stay ahead. Give us a call today to get a no-obligation, free of cost plumbing service estimate from one of our San Diego's top-rated plumbers.