Water and Gas Emergency Shut Off Valves in San Diego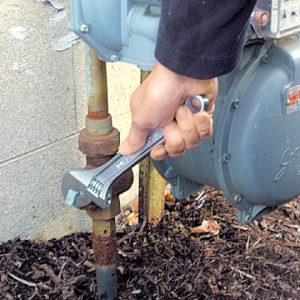 What would you do if there was an emergency in your home? Do you know how to turn off the gas to your appliances? And would you know how you can turn off your main gas service? Think of it in this way, do you really know how you can turn off the water supply to your main line in case of a breakage in your pipes?
All of the gas and water lines of homes and business location should have an emergency shut off valve. In the event you are unable to locate the emergency shut off valve, there is a chance that you might be having an older home or a building that didn't have one installed. This isn't something that is good. However, you do not need to worry as we are the best water and gas emergency shut off valve installation and repair company in San Diego, and can certainly help you install the valve for you.
In the absence of an emergency shut off valve, you could potentially face a major damage just in the event there is an emergency situation. While water damage is a worse case scenario, if the same damage is caused by gas line due to fire or earthquake, the calamity would be ten times worse.
You should do yourself, your family and your home a favor and check on the location of your emergency shut off valve. If this is the main gas line, the main shut off valve is located on the outside of your home, usually near the gas meter. If you are dealing with a water shut off valve, you have two different options: you can either turn off your water inside of your house (right on the top of your hot water tank, there is a valve from where the water goes into the water heater).  If you want to shut off your entire water supply, you should check for a valve right underneath the hose spigot. If you still can't find it there, then your house's water emergency shut off valve may be located on the inside of the water meter, right on the street side of your house or business location. In the worst-case scenario, if you still cannot find both these shut off valves, don't hesitate to call Drains Plumbing today to help you out.
At Drains Plumbing, we have the right knowledge and expertise to install an emergency shut off valves for your water and gas lines. This will help to avoid any catastrophic damage in the event of an emergency. We have certified and extensively trained technicians that come equipped with the right tools and supplies required to protect your home from any potential damage.
So, call the best water and gas emergency shut off valve installation and repair company in San Diego to get a free of cost plumbing service estimate from San Diego's top-rated plumbers.