Urinal Installation San Diego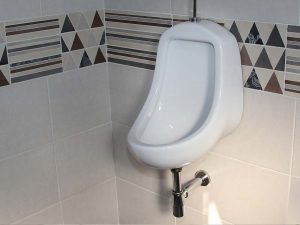 How can you install a urinal? As much as of a good question that is, you should always leave such a task to experts like us where we have the best urinal installation and repair plumbing company in San Diego. Not only we will answer to any of your plumbing questions you may have, we will also help you with the installation of any kind of urinal that you have purchased from the market.
But, if you never had the chance to buy a urinal, we can always help you out. At Drains Plumbing, we have access to some of the best urinals and any other commercial fixtures that you need. And these are all from the major fixture manufacturers. So, it doesn't matter what your commercial needs for urinals might be, we always have a fixture that suites your needs. Drains Plumbing also offers traditional valves and the new sensor operated commercial valves as well as waterless urinals to offer you the best in water and energy efficiency.
What is a Waterless Urinal?
A waterless urinal is a modern and unique kind of concept. It works without water or flush valves and they are absolutely touch-free. These are pretty simple to install and they last for long to make the restrooms remain sanitary and odor free.
Where the traditional flush urinals and toilets are very easy to install, they consume too much water to flush. Even though the waterless urinals are a bit expensive, they will eventually pay for themselves within a short time-period, especially in terms of water and energy savings.
Not Merely for Installation
Our experts at Drains Plumbing not only have the skills and tools to install any kind of commercial urinals in a very timely and efficient manner, they also have all the skills, tools and spare parts that are required to repair any urinals that are not working properly.
Our commitment to quality and service has made us the top choice of plumbers in the entire San Diego county. This is something that goes a long way to giving you the peace of mind, knowing that you will get the best in quality appliances and services.
At Drains Plumbing we not only offer you our state-of-the-art installation services, but also 24-hour emergency services for any kind of repairs in San Diego. You can the best urinal installation and repair company in San Diego today to get a free of cost plumbing service estimate from one of our San Diego's top-rated plumbers.