Sink Installation San Diego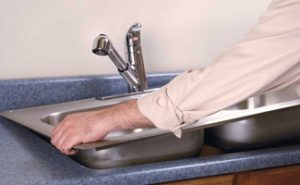 Whenever you think of plumbing, sinks are usually not the first thing that comes to mind. As a matter of fact, we barely think about sinks. Recently, more and more people are looking at their bathrooms as places that needs high level of decoration with different fixtures and other decorative pieces. Quite honestly, nowadays, homeowners have a lot of decorative options to choose from when it comes to their sinks. At the best sink installation and repair company in San Diego, our job is to help you find the best sink that complements your decorative needs and gives you a unique experience.
Needless to say, that your sink is one of the most important focal points of your bathroom. This is the place where you brush your teeth, wash your face, hands, shave and even put on makeup for a party or event. Where some sinks are very simple in design and chosen merely to match with the tile work and nestled into the plain cabinets, there are several others that are stand alone works of art that could easily give a contemporary look, and make your place look more modern than ever.
Irrespective of whether or not your are looking for sinks that are made of stone, glass, metal, acrylic and ceramic, you will come across several different styles to choose form that you can easily pick from. We have several different and unique designs that will fit your teste and needs. Not only that, they will also match up to the style of your faucet.
Where the older sinks used to be somewhat easy to put in as DIY project, the newer contemporary sinks are pretty tricky because of their advanced designs and needs. When it comes to installation, Drains Plumbing can guarantee that your choice of sink will be installed in the least time possible with maximum precisions and efficiency and minimal amount of fuss and trouble.
Irrespective of the type of sink you choose, or even if you want us to help you choose your sink for you, we can take care of your installation needs. When you want us to choose the sink for you, you can rest assured that we will always choose the type of fixture that goes the best with the décor of your bathroom, its styling, tiling and every other detail. We also take care of your budget limits.
Moreover, for the convenience of our customers, we have a vast range of different top-quality contemporary sinks to choose from. Whether you our model or you want to buy it from somewhere else, we give you the peace of mind that we will meet all of your residential and commercial sink installation needs.
So, don't wait more and give the best sink installation and repair company in San Diego a call for any of your plumbing services that you need. We are happy to offer you a free of cost estimate and answer all of your questions that you may have on the call.