Sewer Clean Out Installation San Diego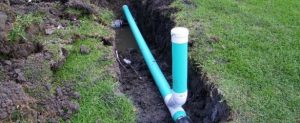 Your drains are one of the most important part of your home plumbing system. Still, not enough attention is given to its care and maintenance and this usually result in some very serious backups of drains and the sewers. This is a problem that can often result in very extensive damage and repair costs. If a sewer problem ever arises, our plumbers from the best sewer clean out installation and repair company in San Diego are ready to help you and are a call away. The only problem left is how are they going to clean out your system. One of the simplest solutions to this is to have a sewer cleanout drain installed.
A sewer clean out is a drain which can be accessed from the outside of your home or business location. It leads directly to the home or business's plumbing system. This outside access to your plumbing system provides an access point for the plumber to use various cleaning tools, including the plumbing snakes, in order to maintain your plumbing or to clean it out in case of an emergency or during a sewer repair. And the best thing of all, when you have a clean out drain installed on the exterior of your home or business location, you will never have to worry about ay plumbers tracking through your home or business place whenever they have to come and attend an emergency situation at your property.
At Drains Plumbing, we have some of the most professionally trained technicians who are always available 24/7, to attend any of your emergency plumbing needs. We really hope that you never get into any such situation of emergency. So far, our professional plumbers can not only give you a rundown of what exactly is required to install a clean out drain, they will also help you to repair and maintenance schedule for your home or business location. This will ensure that the worst problems to not take you over by surprise.
Our technicians at Drains Plumbing will come out and thoroughly evaluate your property, and then they will advise you as to what size of clean out drain you would need and where one will be needed to be installed. Our technicians will also provide you with an accurate assessment as to how much the installation of your clean out drain will cost you and how much you will potentially save by having it installed. In case of emergency, don't hesitate to call us.
So, call the best sewer clean out installation and repair company in San Diego today and get a free of cost plumbing service estimate from one of our San Diego's top-rated plumbers.