Septic Tank Installation and Repair in San Diego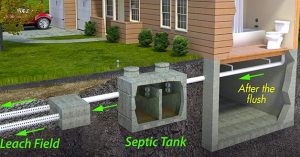 If you are looking for a septic tank installation service in San Diego, then you need to call San Diego's best plumbers at Drains Plumbing. Our septic technician tea at the best septic tank installation and repair company in San Diego is always ready and waiting to attend all of your septic tank needs.
Septic tanks often have a bad reputation due to a number of reasons. The main reason is DIY installation of septic tanks by individuals who don't have any experience to do the job, or because they have never been maintained properly and may lead to have a sewer repair done as soon as possible. However, with proper installation and regular maintenance scheduled by experts, you will never have to fear about anything from the installation of any kind of septic system.
If you don't know what a septic tank is, it helps to disperses solid waste by running water through a holding tank and finally leach the water out of the system into the soil where it is absorbed by the earth and is finally broken down by bacteria before it reaches the water aquifer. To make sure that your system in installed properly, or to repair a tank that isn't working properly, you should always call the professionals at Drains Plumbing.
Whether it be installation or maintenance work and even repairs, at Drains Plumbing, we fully understand the ins and outs of all kinds of septic systems. We have state of the art tools and techniques that will keep your septic system in its optimum condition.
If you are looking for installing a new septic system, let the experts at Drains Plumbing help you choose the best septic tank that is perfect for your home and size of your family. Whether it be selection or installation, we will be with you to guide you though each step.
Do not worry if you have an emergency, our emergency septic repair team is always available 24/7 to attend all of your emergency septic tank concerns.
So, call the best septic tank installation and repair company in San Diego today and get a free of cost plumbing service estimate from one of our San Diego's top-rated plumbers. We promise to fix all your septic tank issues. Whether you need a new installation or repair a current one, you can rely on us.